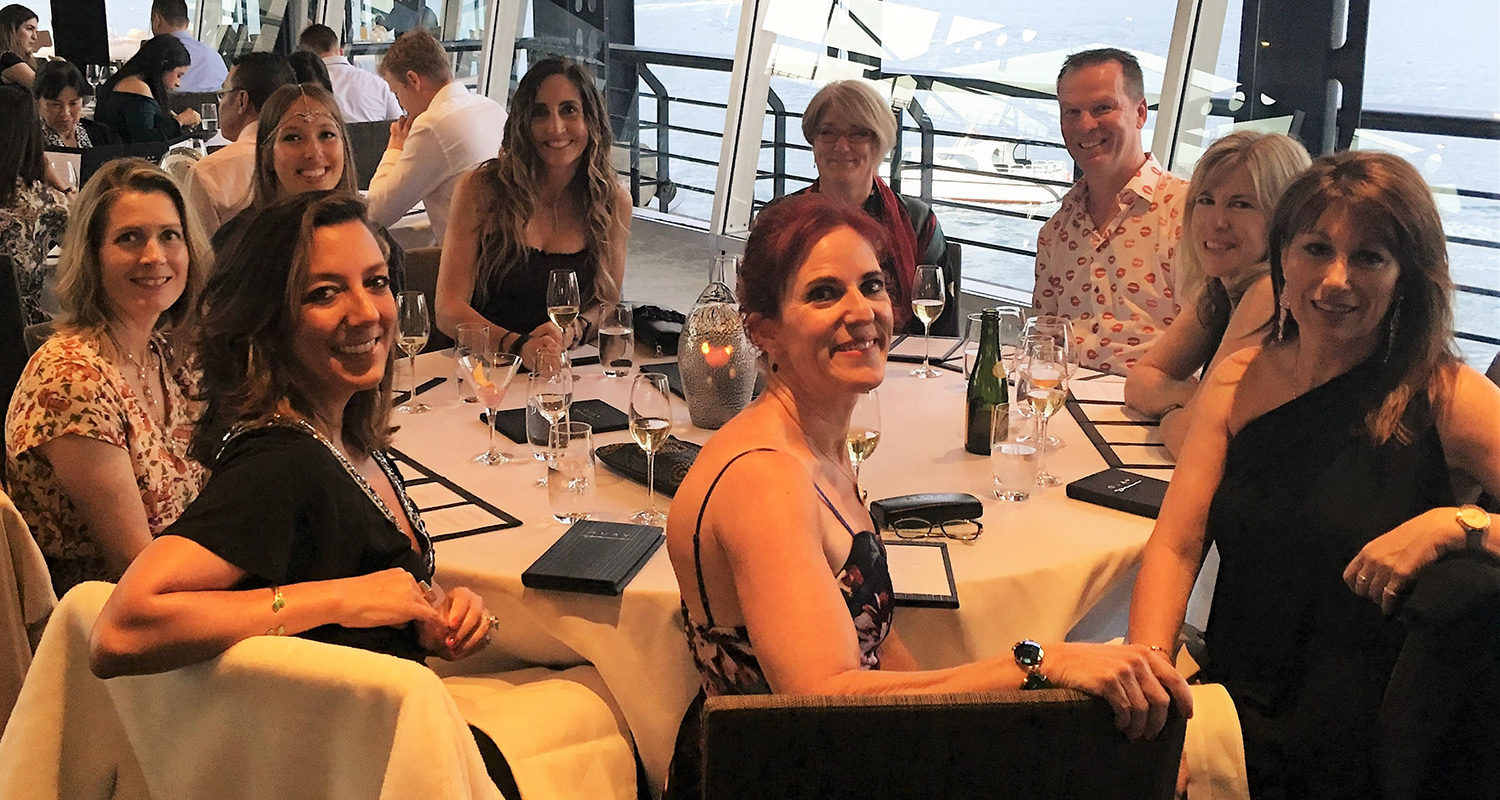 Sydney PR agency Llewellyn Communications, which has evolved into a major player in Australia's comms sector, celebrates 15 years in the media industry.
Surrounded by sweeping views of Sydney Harbour and the decadent interior of Australia's most awarded restaurant, Quay, the Llewellyn Communications team recently gathered from all corners of the state to mark a major company milestone: 15 years in business!
Founded by communications expert Lisa Llewellyn, LlewComm has evolved into a major player in Australia's comms sector, with a portfolio that includes a myriad of national and international brands such as Cochlear, the global leader in implantable hearing solutions; Rheem Australia, which keeps Australians in hot water; Swimart, the pool and spa professionals; ASX-listed Waterco, the innovators in water treatment systems; Germany's Viega, pioneers in installation technology since 1899; and Homeloans, one of Australia's biggest non-bank lenders. Just to name a few.
After many years of toying with the idea of starting her own PR consultancy, Lisa says the decision was made easier after she was made redundant in 2001 from a mid-size consultancy.
"I had received a job offer from another agency, but weighed up the options and decided to make the leap into my own business," she explains. "In October 2001, Llewellyn Communications was born."
While initially working as a freelance journalist and PR consultant for various clients, Lisa soon secured her first ongoing client: Doors Plus. "Let's just say I learnt a lot about the different types of doors available on the market!" she says.
That was the start – and the business grew steadily from there.
Senior level counsel sans the huge fees
By creating a business model that offers senior level counsel sans the huge fees typically charged by the larger agencies, LlewComm has steadily attracted clients across a variety of sectors.
"I also wanted to be able to provide solid strategy, media relations and editorial services," says Lisa, a seasoned journalist who trained with Fairfax in the 1980s. "The written word is more important than ever now and I have ensured that we have very versatile and experienced writers on our team. I love writing and am very particular about things being written well and creatively. And I make sure that the writers/content creators on the team are able to write across many different styles, depending on what's required."
LlewComm only has senior consultants who have vast experience across content creation and PR sectors, along with a network of highly skilled contractors whose expertise Lisa taps into as needed, depending on client campaigns.
"In addition to skillsets, I look for people with a sense of humour, who are quirky and get on well with others," says Lisa. "They also have to like dogs, as our welcoming committee is comprised of two office dogs. I was once looking for a consultant and placed an ad that stipulated applicants must like dogs. One guy came back and said, 'I'm the person you want, but I don't like dogs.' I politely replied that a) we had office dogs and b) one of our largest clients was a dog training company – so he wouldn't be suitable. It pays to vet staff – pardon the pun!"
Industry changes
The media industry has gone through the "wringer" during the past five to 10 years as Lisa can attest, with many journos either losing their jobs or having their roles re-defined, and magazines and newspapers consolidating or folding.
"I've been in PR for 25 years, and the level of change in recent times has been enormous," says Lisa. "If you hark back to the 90s when I started, we were sending out media releases via fax and post (yep, snail mail!) and also labelling and sending out transparencies. Life is so much easier now and the news is more immediate."
With the digital world becoming increasingly important, traditional PR is no longer what it was. Today, as they say, "content is king", which suits Llewellyn Communications to a tee, thanks to the consultancy's trained journalists who create authentic, engaging content for clients across a broad range of platforms.
"I'm incredibly proud of what we have achieved," Lisa says. "One of my colleagues once remarked, 'We may be small but we achieve BIG things.' And we don't just down tools if a tactic might not be working as well as we'd hoped; we have the added advantage of being agile and thus being able to modify or change our approach. We believe in our clients' businesses and are genuinely invested in achieving great results for them."
Llewellyn Communications' highlights over the past 15 years: 
Winning the job to handle a consumer awareness campaign for Cochlear Australia and New Zealand. "Our boutique agency beat two large multi-nationals – and that's probably one of my proudest moments," admits Lisa. "We continue to handle Cochlear's PR to this day and have uncovered and told myriad beautiful stories about Australians and New Zealanders who have received a Cochlear or bone conduction (Baha) implant. I would have to say a major highlight was handling the 30th anniversary of the world's first multichannel Cochlear Implant and working with the amazing Professor Graeme Clark, the inventor. What a gorgeous man."
Handling PR for a major event in 2007, "The Return of the Horse", to celebrate the end of the devastating Equine influenza epidemic that almost decimated the industry in Australia.
Working with Rheem Australia on range of issues management matters, when different levels of government changed and/or axed rebates with little or no warning.
Achieving some fantastic media coverage of the wonderful work that LlewComm's pro bono client Deaf Sports Australia does.