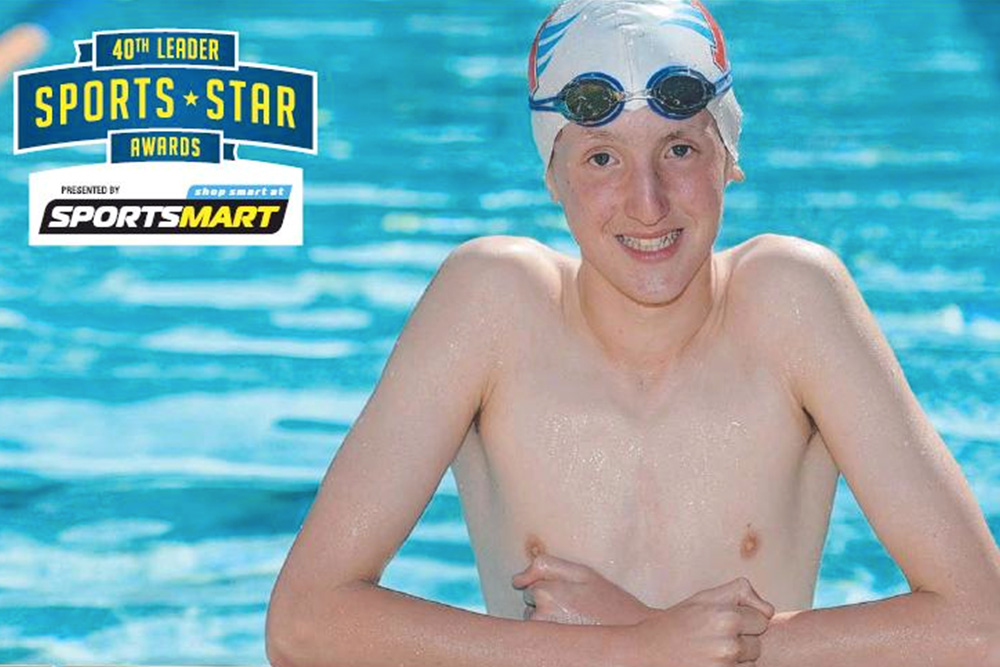 Helping others is always one of life's biggest joys, especially when you're using your professional skills to give a boost to a worthy cause or person. That's why we always get a buzz out of helping to promote Deaf Sports Australia, the peak body for deaf sport in Australia.
Deaf Sports Australia (DSA) is our pro bono client, and we've been working with them since 2015. DSA is an outstanding organisation that supports deaf Australians to take part in all levels of sport. Deaf Sports Australia also hosts, organises and manages a range of deaf specific sporting events. It's true to say that we love working with DSA and doing what we can to help this very worthy cause. So it was a big thrill when we recently received a plaque in recognition of our help with the XXVII Australian Deaf Games held in Adelaide from January 9 to 16.
The Australian Deaf Games is one of the oldest ongoing deaf sporting events in the world. The origins of interstate deaf sport competitions can be traced back to 1895 when the Victorian Deaf cricket team travelled to South Australia for a friendly deaf cricket match.
Not only is the Australian Deaf Games the pinnacle multi-sports event for deaf people in Australia, it also gives them opportunity to be exposed to a national competition format that promotes the development of deaf sport. Deaf Sports Australia owns and manages this event. It Involves up to 19 sports and now held every four years. But while sport is central to the event, the Games also provide a major social and cultural festival for the whole deaf community.
During this period, we had a dual role – coordinating media coverage for the Deaf Sports Australia awards that were announced during the Games' closing ceremony on Saturday 16 January, in addition to helping announce Albury Wodonga as the host of the 2018 Australian Deaf Games.
The annual Deaf Sports Australia awards celebrate the achievements of deaf and hard of hearing athletes and those who are enabling the deaf and hard of hearing to excel in sport. We achieved coverage for a number of the award winners including Rising Star of the Year, lawn bowler Tiffany Brodie; Outstanding Achievement award winner Katie Kelly, who is legally blind and deaf; Coach of the Year Brent Reid; Male Athlete of The Year Sam Greatorex; and Female Athlete of The Year Jamie Howell. Some truly inspirational people.
Announcing Albury Wodonga as the 2018 location for the Australian Deaf Games was our next project, and we worked closely with the local councils to help secure coverage. And the results were fantastic – coverage appeared in the local newspapers, on radio and TV. Very exciting.
Using our skills to help to spread the word about the great work Deaf Sports Australia does is a pleasure.
---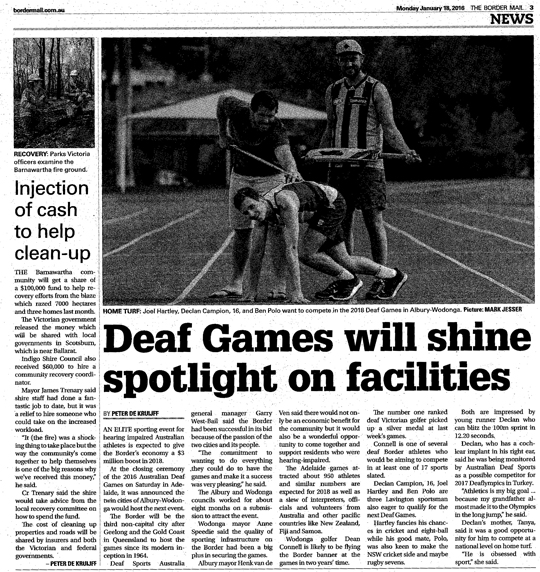 ---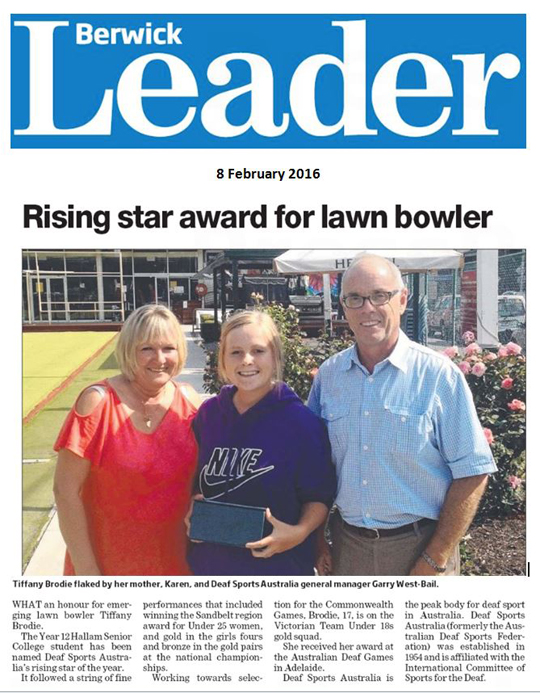 ---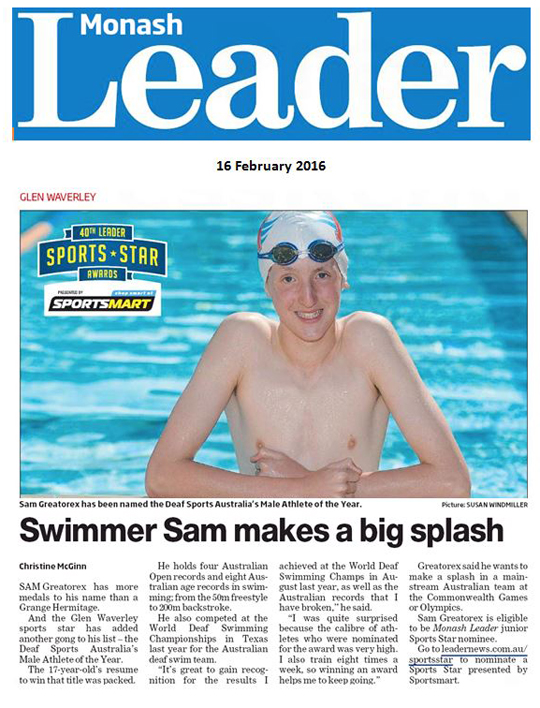 ---

Katie Kelly hones in on gold at Rio de Janeiro 2016 Paralympics with Michellie Jones
February 23 2016
Zac Lowe
Katie Kelly was told she'd never compete in another ironman event after her eyesight had deteriorated so much she was considered legally blind.
Fast forward 12 months and she is preparing for the Rio de Janeiro 2016 Paralympics as the defending world triathlon champion and proud owner of four gold medals.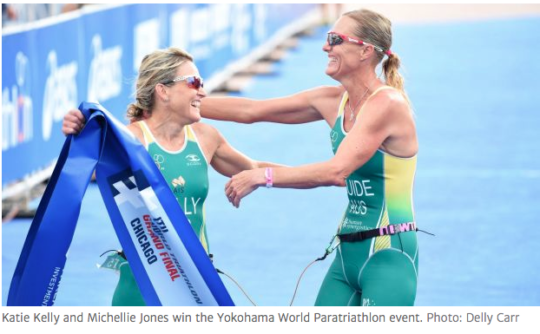 Kelly has Usher Syndrome, which causes deafness and blindness. She lost most of her hearing as a child and her eyesight at the beginning of 2015.
Her success so early in her career has left her stunned.
"Yeah, it was just incredible," Kelly said of her world championship victory in Chicago in August.
"I just couldn't believe the position we were in. And to finish and to win the gold, it was just an extraordinary year."
Kelly's year improved further in January when she won Deaf Sports Australia's Outstanding Achievement Award.
She competes in the PT5 category, for athletes with a visual impairment who require a sighted guide to compete alongside them.
Kelly's guide is triathlon legend Michellie Jones, who won silver in the women's triathlon at the Sydney Olympics in 2000.
"She's dominated across all disciplines in triathlon," Kelly said.
"So when we race together, there's obviously a great comfort from my perspective. She knows how much I've got in the tank, and when to push me, when to surge, and when to hold back."
In spite of her achievements last year, the path to the Paralympics will be anything but smooth for Kelly.
The Australian Paralympic Committee relies largely on public fundraisers to supplement their goals, and the athletes must contribute with their own fundraising efforts if the target of $7 million is to be reached for Rio de Janeiro.
However, Kelly is confident Paralympians are well set in the modern day to take full advantage of the opportunities afforded to them.
"I think Australia is starting to see the fantastic story and the people behind the Paralympics, as in the athletes. And I think we all saw that in London, it's incredibly inspiring," Kelly said.
"We need to let people know our story. The support is there, it's a case of the Para athletes knowing and reaching out to the community to support them."
Kelly is a crucial part of Australia's Paralympic campaign. After winning gold at the worlds and improving her world ranking to ninth, she is considered one of the best chances for a medal in Rio.
Kelly herself is wary, as she knows she had the element of surprise on her side during her stunning run in 2015.
"I certainly don't take anything for granted or the capacity of my competitors to come back. I think I might have caught them off guard," she said.
"They're [the bulk of Kelly's opponents] in the northern hemisphere, we're down here in the south and there's not a lot of cross-over in our races.
"We don't get a lot of chances to test each other out and see where we're at. I only really had the world champs to see that. I think that's why I did take the Great Britons by surprise."