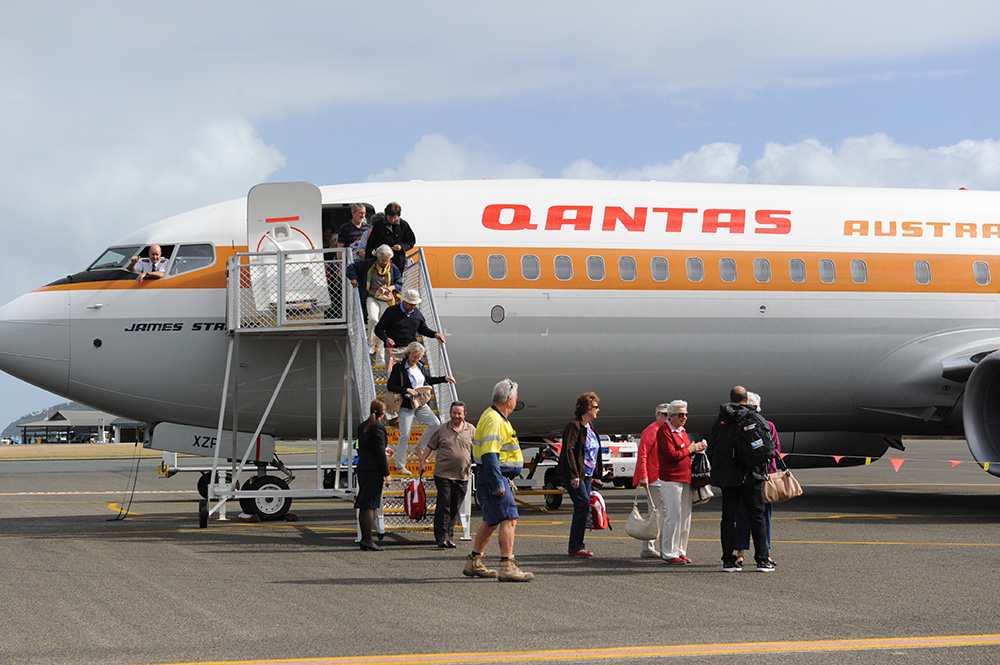 We're flying high (if you'll pardon the pun) following the success of our campaign to promote a charity flight for a very worthy cause – the Royal Institute for Deaf and Blind Children (RIDBC).
The 15th annual Qantas Pathways Charity Flight from Sydney to Tasmania raised $110,000 for RIDBC, which helps more than 6500 children and adults with vision or hearing loss, and their families, across Australia. Having worked with deaf and hard of hearing people for almost a decade through our work with Cochlear and Deaf Sports Australia, we're intimately acquainted with the great work the team at RIDBC do.
Stars at 30,000 feet anyone?
The name of the game was to help fill the 180 seats of a Qantas 737-800 aircraft for a VIP flight to Hobart with ABC radio presenter Simon Marnie and Gold-Logie-winning TV journalist Ray Martin.
The 15th annual Qantas Pathways Charity Flight took off from Sydney Airport on Saturday, November 12 – the start of an unforgettable day for the passengers who paid $895 a head and received the rock star treatment in return.
And what rock star doesn't start the day with a champagne breakfast at 35,000 feet in the company of media royalty? Not only that, they were able to learn first-hand about just one of the many youngsters whose future is brighter thanks to RIDBC – 15-year-old Connor McLeod, whose mum Ally was a special guest on the day.

Daytripper delights
The flight to Hobart was just the beginning. The passengers visited Salamanca Place, the heart of Hobart's historic waterfront, with its vibrant markets filled with artisan arts and crafts, live music and local produce, and then it was off for a ferry ride down the Derwent River and a stunning three course lunch at Tasmania's iconic Museum of Old and New Art (MONA).
The great news is that all money raised by the annual event goes to RIDBC. Each year Qantas donates a 737-800 aircraft and associated handling requirements, with in-flight catering from Q Catering. Pilots, cabin crew and ground stuff volunteer, aviation fuel is supplied free of charge, and landing fees are waived.

Recipe for success
We used a range of tactics including a media release, targeted media pitches and case studies to approach media with, and we achieved significant coverage across a range of traditional, digital and social media platforms.
Coverage appeared in media outlets as diverse as: The Australian, Sunday Telegraph, Sun-Herald, Sunday Age, Global Travel, Over60 and NewsLocal, not to mention numerous tweets and Facebook posts.
The result was a packed plane and a great adventure for all concerned that brings the total to a whopping $1.29 million raised for this great cause since the first flight took off 15 years ago.
Inspiration on the way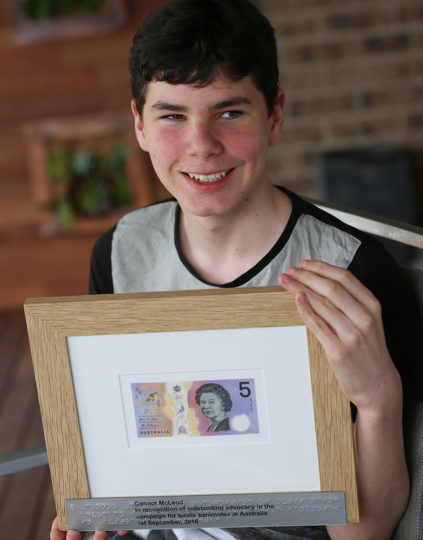 Connor McLeod was diagnosed with Leber's congenital amourosis, a recessive genetic eye condition, when he was four months old. He began attending RIDBC VisionEd Preschool when he was three years old and now attends mainstream school and receives support from RIDBC School Support Service (Vision Impairment).
But what makes Connor truly extraordinary is his work as an advocate for vision-impaired Australians. At just 10 years of age, he pushed for his right to represent his school at cross country after he qualified but was denied the right to participate due to his vision loss. At 13, he lobbied the Reserve Bank for accessible banknotes to have a tactile feature incorporated on the new series to ensure blind and vision impaired people could independently identify them correctly. As a result, The Australian Reserve Bank issued the first generation of tactile banknotes in September.
Passengers had the opportunity to meet Connor's mum Ally during the flight and hear for themselves how RIDBC has helped her son and other vision and hearing impaired youngsters.